Optimised Dust Control Planning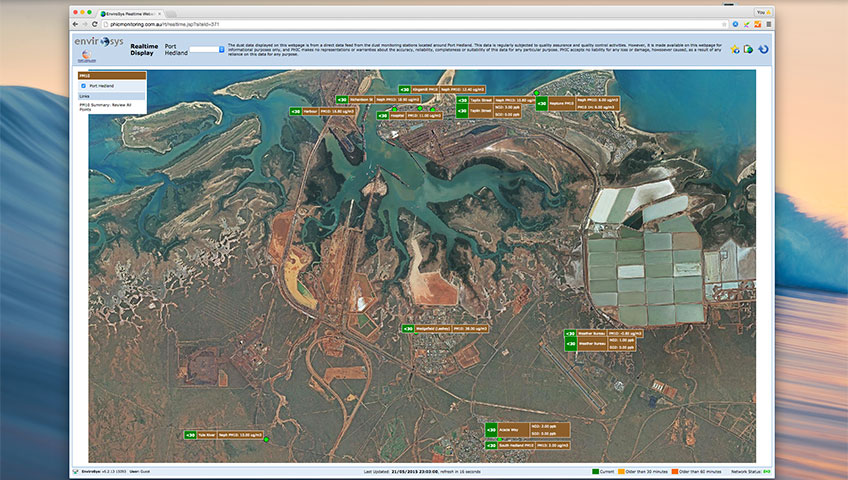 Data to Optimise Dust Control Planning –
The Port Hedland Industries Council Air Quality Real-Time monitoring:
Site Monitoring | Weather Forecasting:
Site Monitoring enables accurate prediction of dust events allowing for real-time and future dust risk reporting, which allows dust control programs to be implemented in advance of a weather event. Site Monitoring contributes to improved environmental and safety performance and provides a direct cost saving by designing dust control applications accordingly (timing and volume of product applied tailored to suit conditions).
Monitoring is ideal for construction sites, civil works, mine sites, port operations and as a mitigation tool for residential communities living in proximity to industry. Online monitoring systems are available through service providers. The Port Hedland Real Time Monitoring is a public access facility and an excellent example of an active monitoring system in place.
Other Data used to assess Dust Control Effectiveness:
Wind Tunnel Testing:
Validates expected dust lift off, (20 metres / second). Known dust risk levels vary for different ore types. Dust control programs are designed to suit different ore types & materials to ensure safe atmospheric conditions – in response to dust lift off performance varying wind speeds.
Dust Lift Off Data:
Monitoring PM10 on site monitoring through both fixed and mobile units
24 hour online systems showing wind speed and direction.
Tracking the movement of dust across the site
Validates dust control measures applied and identifies risk areas.