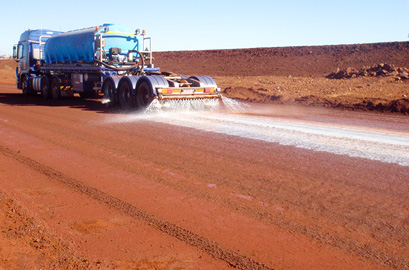 Dustmag™ is an excellent stabilisation and compaction agent for unsealed roads. Rainstorm have Dustmagged over 10 million square metres of road in the Pilbara and across Western & Southern Australia over the past 2 decades. Rainstorm value all clients and their major mining clients including BHPBIO, FMG, RTIO & Port Operations. Dust is a huge safety and environmental impact issue on mine sites and unsealed roads.
For site Operations in the Pilbara Desert, Goldfields & Mid-West of Western Australia, red dust is part of the work day. Dustmag™ lays dust and makes for a safe and environmentally sustainable site. Dustmag™ is produced by Rainstorm in the Pilbara and Eastern States.
Dustmag™ Performance
No watering for months post application
Water Saving: 3 – 6 litres per square metre per day saving
A 1km stretch of road at 10m width (10,000m2)
3 litres per day water saving equates to 270,000 L water saved
Over a 90 day period after a Dustmag™ application
90% dust reduction and substantial water saving
Dustmag™ improves road condition and vehicle life
No operational delays from daily maintenance
Our mining clients large and small choose Dustman over daily watering : it saves money and stops dust.
Dustmag™ Project Types
Mining Haul roads
Light vehicle access roads
Hard stand laydown areas
Rail access roads
Car parks